This article covers the my Kilimanjaro Preparations. It describes different details to climb the highest mountain in Africa.
Kilimajaro Preparations – Introduction
Last year (2014) Tim and I climbed Mt. Fuji, the highest mountain in Japan. During this tour we felt we can do more. Like every year, we followed our tradition: We decide where we want to go next year, during the current holiday. We had different options, a South America tour, a crossing of the Alps by foot, travel to Bhutan or climb Kilimanjaro. Arrived on the top of volcanic crater of Mt. Fuji, the decision was made rather quickly: Kilimanjaro. A magnificent view, a sporting challenge and a nature experience beyond comparison. Kilimanjaro a volcano-like mountain with a height of 5895 m. I read a a lot about the Kilimanjaro, such as the old name in colonial times "Kaiser-Wilhelm-Spitze". But this will be no historical lesson. It will be about physical training for the ascent, medical preparations, as well as the general hiking advises …
Kilimajaro Preparations – Training
I have watched videos on Youtube about people who have already climbed Mount Kilimanjaro. There are different ages and fitness levels, I know the climb will be a challenge. A good friend of mine has already conquered the mountain. Therefore, I asked him how I can toughen me physically in advance, to prepare for Kilimanjaro. His answer was obvious: "The mountain itself and the trekking is a small difficulty, only the last day to climb to the top is really tough. With a healthy body and a little sport, it shouldnt be a problem.."
About me, I am somewhat sporty and go running regularly. I run 2-3 times a week 6-8 kilometers in a time of 28 to 40 minutes depending on the daily form. My friend who climbed the Kili had troubles with his knee and was not able to run. The endurance should not be a problem. Regular light jogging around 6 km, would help me to stay fit.
A second training should complement the first endurance training. This training is related with condition – carrying backpacks and to overcome long distances on foot. For this reason, I've hiked multiple times in the german uplands "Harz", during Easter and Summer. Additionally a challenging hike in the Elbe Sandstone Mountains last weekend was successful. The stress during the hikes were not kilometers, but the luggage. I always had my full equipment with me – clothes, sleeping bag, mattress, tent, water and food – as I would do a full trek.
Prepared by endurance training and familiarization with the backpack, I feel now fit enough to survive a multi-day tour. The uncertain: Will i feel comfortable at 5800 m? I'll find out soon.
Kilimanjaro Preparations – Vaccinations and Health
A trip to Africa requires a look in my vaccination records. I had to prepare my self necessarily on the topics of health and vaccinations. My biggest concern, what vaccinations I currently what I need and how much time do i have left to take the shots?
Since I am not a doctor or a physician, I can give no data here, which are binding. A good source of information in Germany is the Foreign Ministry. For short-term preparation: It took me about a month's to get all vaccines. Some vaccines take more time to protect the body, the effect of cholera vaccination only starts after two weeks.
Vaccinations I have taken:
yellow fever
Hepatitis A + B
Cholera
Meningococcal
A little planning regarding costs could help, the vaccines came around 250 € (2015).
There are other vaccinations that should be monitored:
Rabies
Tetanus, diphtheria, polio, pertussis
Typhoid
Additional diseases which must be noted in Tanzania: Malaria. Antimalarial drug Malarone is a preventive. Malarone you can only get from your doc.
One thing that I try out for Tanzania: Mesotherapy. Mesotherapy is a method that is not accepted in the modern medicine. Mesotherapy should prevent mosquito stings. Thiamin, also known as vitamin B1 will be injected under the skin. This measure allows the skin to change their smell, so mosquitoes are deterred. However, I had to have no time to get regular injections, therefore decided instead to take pills. Two weeks before travelling to "mosquito territory," I should
Vitamin B1-ratiopharm 200 mg Tabletten, 100 St.
Price: EUR 8,34
(0 customer reviews)
17 used & new available from EUR 8,33
take with a dose of about 150 to 200 mg daily. These pills should change the smell of the body and mosquitoes will find me no longer attractive. Whether this works? I'll find out. I used the pills for two weeks now, but I smell nothing. But as long as the mosquitoes do, it's all right with me. In an emergency, I still can use
Care Plus Anti-Insect DEET 40% Spray 60ml
Price: EUR 14,23
(0 customer reviews)
1 used & new available from EUR 14,23
.
Another important precaution is sunscreen. As European with sensitive skin, i will need sun protection. The sunscreen that I impose myself, has SPF 50 – for arms, hands, face, neck and ears of course. In addition, I still have a lipstick with the same SPF.
Kilimajaro Preparations – Food and Water
Water drinking is important on long journeys. During my hikes have already tried several bladders. For more demanding tours you should rather take a more water with you than to less. There is only one rule here, especially for moving in high heights: Drink, Drink and more Drink.
As a typical Hiker I own several water bladders between 1.5 l and 3 l. This time the 3 liter bladder will accompany me. I use the
Camelbak Antidote Reservoir Short Mil-Spec 3 L
Price: EUR 51,34
(0 customer reviews)
3 used & new available from EUR 51,34
and am very happy. The gummy flavor that occurs mostly at the beginning, no longer exists after two tours. The hose is protected by an outer shell fabric, which covers the remaining water in the hose.
One more thing that I've read several times, is the water treatment. Daily drinking water you get handed out by the tour leaders. Per person you will get 3 l of water. During breakfast and dinner even more. The leaders promise that the water is always boiled. However, if you think about it: 5 carrier, 3 tourists, 1 Guide, 1 Cook = 10 × 3 = 30 liters of water. To boil 30 liters of water, the cook is busy with boiling water all day long. It seems likely, therefore, that this will not happen. Cholera vaccination protects me before some disgusting things, but there are other plagues. For this reason, I will take with me
. This means it should be possible to clean up my water in the morning. How well all this will really work…
The food for breakfast will consist of jam and bread, also black tea is served. That sounds to me like ideal conditions. In preparation, I've read that you should organize themselves little extras. I'm have some with me. In addition, I take a few regular energy bars.
Lunch and dinner food on the mountain is organized by a chef. It is important to know that there wont be any pork. The chef will prepare dishes from beef and chicken, as a side dish, there is usually rice. The cook is mostly a simple journeyman and not necessarily equipped with culinary skills. A quote of my friend: "Close your eyes and just get it down in your stomach". Again, I am curious how it will turn out.
Kilimanjaro Preparations – VISA
For all my previous trips I have booked the VISA in Germany. The destination countries were partly a bit more exotic. But even countries like Mongolia, China and Japan were no major challenges at all. Tanzania, however, lies in Africa and is certainly not travel destination # 1. That's why I previously consulted the side of Foreign Office and decided, I will get the VISA at the airport. The cost will be around € 50 or $ 50. However, it may happen that euro notes are not accepted.
Cost: 50 € / $ 50
Kilimanjaro Preparations – Tips
In Tanzania you pay with Tanzanian shillings. This currency is not very wealthy due to inflation and other problems. Therefore, in Tanzania, especially in the tourist areas, you can pay with US dollars.
In preparation for the trip I exchanged a few dollars. How much you need depends on the amount of people who want to climb the mountain. I fully booked my tour in advance. Because of that I do not need so many Dollars.
I have made good experiences with a services called Ria. Ria is based on multiple cities and in Berlin too. The advantage of Ria was, you do not have to pay fees for the money transaction. The exchange rate was only 2 cents less in comparison what google offered. All other travel banks or banks, have almost always fees.
In Tanzania, it has become common at the end and in between to tip the carriers with an extra tip. As described in . As addition the carriers enjoy a pack of cigarettes – each carrier a box, non-smokers will sell cigarettes to their smoking colleagues. At the end of the tour the carrier will get $ 15 – $ 20 tips. If you're traveling in with a group of 3 tourists: 3 support will go with you, the guide and generally a chef. The cook has its own carrier. Quickly another 100 $, which are not provided in the initial costs, have to be paid. At the end of the tour, gratuitous are paid out and of course a beer is still enjoyed together. Whether it will really happen like that? I'll find out after the tour, I'm definitely ready!
Kilimanjaro Preparations – Routes
Before heading to Mount Kilimanjaro, you should know which route you want to climb. The short version is this: there are seven ways officially to climb the mountain. Picking the right route is difficult, some are more stressful than others. A detailed list of all routes can be found here.
The route discussion will be done with the tour operator. There is the possibility to choose the route directly in Tanzania, but i will not talk here about that. I booked in advance and so my route was already chosen.
I opted for the Machame Route. The climb will take seven days. The complete tour is organized. Tents and heavy equipment is carried by the carriers. A short report for the ascent
Day 1
Machame Village to Machame Camp
Distance: 9 km
Altitude: 1200 m, start 1800 m to 3000 m
Travel time: 5 bis 7 hours
Day 2
Machame Camp to Shira Camp
Distance: 10 km
Altitude: 800 m, start 3000 m to 3800 m
Travel time: 5 bis 7 hours
Day 3
Shira Camp to Barranco Camp
Distance: 10 km
Altitude: 100 m, start 3800 m to 3900 m
Travel time: 6 hours
Day 4
Barranco Camp to Karanga Camp
Distance: 6 km
Altitude: 350 m, start 3900 m to 4250 m
Travel time: 4 bis 5 hours
Day 5
Karanga Camp to Barafu Camp
Distance: 7 km
Altitude: 350 m, start 4250 m to 4600 m
Travel time: 6 hours
Day 6
Barafu Camp via Uhuru Peak to Mweka Camp
Distance: 6 km + 13 km
Altitude: 1295 m ascent, start 4600 m to 5895 m – descent to 3100 m
Travel time: 6 bis 7 hours ascent, 4 bis 5 hours descent
Day 7
Mweka Camp to Mweka Gate to Moshi
Distance: 6 km
Altitude: 1400 m descent, start 3100 m to 1700 m
Travel time: 4 bis 5 hours
Day 8
The 8th day is a regeneration day.
The Route:
Kilimanjaro Preparations – Weather
The weather on Kilimanjaro is characterized by dry and rainy seasons. From December to March it is rather hot and dry. From June to October, however, the more pleasant temperatures prevail by European standards. The rest of the year its rainy season. Climbing in the months of April and May is almost impossible.
I opted for the month of July. Since the nervousness already rising, I check the weather on a daily base. I hope to the best, a little rain, not too much sun and a clear view.
The weather also influences the choice of equipment, rain and high humidity will be anticipated. I will not forget my rain protection. Another important point is the sleeping bag. While in the lower regions of Kilimanjaro temperatures will be likely between 20 and 25 ° C. The temperature at the top will be -10 ° C. When choosing a sleeping bag is important so that it covers this wide range of temperatures. Challenging is also the high humidity below the foot of the mountain. I have therefore decided to use a down sleeping bag, but will it tobe true in a moisture protective compression bag. Further details can be found below in the packing list.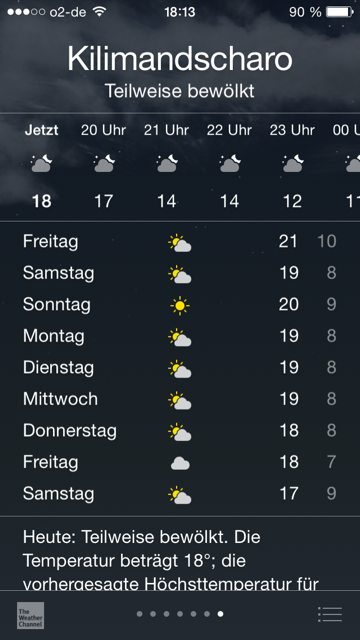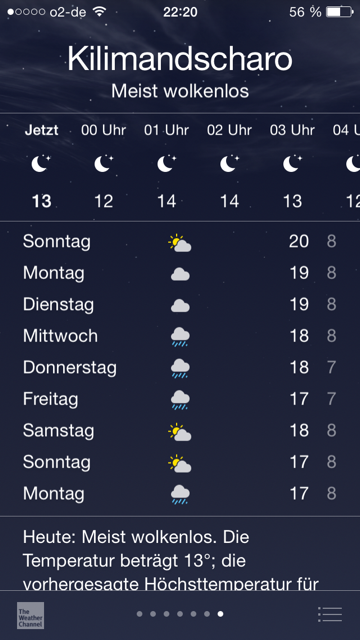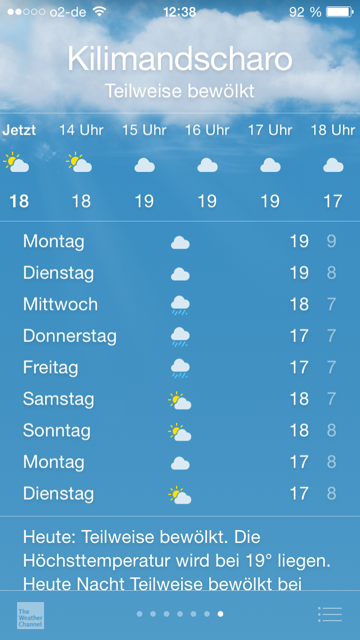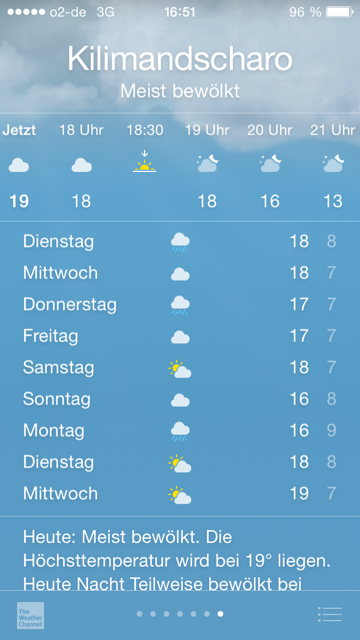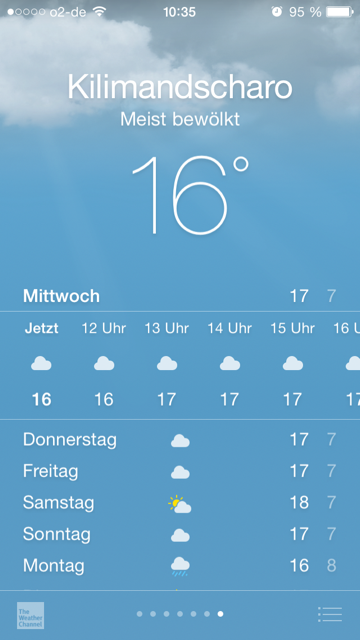 Kilimanjaro Preparations – Equipment
Due to the bad weather, the food and nutrition, i need some equipment with me.
I have to take a backpack with me, this will be my main luggage. I use a 45 liter backpack . 45 l volume should hold everything I need for the day. Besides, I also get all my luggage so easy in to the plane.
Essential for the Kilimanjaro preparation are hiking boots, my
Hanwag Tatra GTX, Herren Trekking- & Wanderstiefel, Grau (Asche), 44 EU (9.5 Herren UK)
Price: EUR 223,95
(0 customer reviews)
7 used & new available from EUR 223,95
are already used to my feet. The shoes are waterproof, have a good grip, and of course they should protect me from twisting and rugged rocks. The feet should of course be supported by good socks that can deal with high cold at the top of the mountain. I have three pairs of socks packed: Mountaineering EH Crew Socks Merino. Snow could happen or on a volcano-like mountain thick dust. To be protected against snow and dust I packed my gaiters, additionally they isolate against cold. A utensil to which I will not do without, are hiking poles. I did not use poles last year at the Mt. Fuji and my knee sometimes really hurt. But this time im better prepared. I trained with them already in low mountain ranges. I pack in my backpack.
The weather on Kilimanjaro will be more humid and rainy at the bottom, a raincoat is an absolute must. I have already purchased last year. This hard shell jacket to protect myself not only against rain but also against wind.
The pants are a further part of the equipment. In Tanzania, especially in cities, shorts are "forbidden" or can create troubles. I have decided to take with me a pair of trousers, the Fjällräven Keb Trousers. The advantage of these pants, I can open the side parts of the trousers to cool down my legs.
The upper part of the mountain is cold, so i will take my winter gear with. I can wear my down jacket under my hard shell and that should protect me from the cold. In addition, I have a midlayer wrapped up, I will wear the midlayer in the last night. At night the temperatures can fall to -15 ° C, there are fleece / midlayer and hard shell a good combination.
The nights can be very cold, because of that i took a comfortable sleeping bag with me (temperatures comfortable up to -10°C). My sleeping bag is a Western Mountaineering "Ultra Lite". The problem with down sleeping bags is that they do not get along well with moisture. The down can become moist and afterwards the sleeping bag is not able to heat you up in the night. Therefore necessarily think of a compression dry bag, which keeps out the moisture, such as the
Sea To Summit Compression Event dry sack
Price: EUR 21,31
(0 customer reviews)
5 used & new available from EUR 21,31
. The advantage of the Ultralite sleeping bag is of course the weight, it weighs 835 g. Combining it with a compression bag reduces the size in the backpack a lot. I'm still not sure if it will really be enough to withstand the cold. Because of that I take an inner sack with me – . This sack should be an extra buffer against the cold. At night, I will be wearing thermal underwear, as well as during the summit. One last piece of equipment that will give me a peaceful sleep, is the sleeping pad. A sleeping pad should be easy to fill with air and of course be used in all seasons. My choice was to the
Therm-a-Rest NeoAir XTherm Isomatte, R
Price: EUR 179,96
(0 customer reviews)
7 used & new available from EUR 178,08
. By default the sleeping pad includes a compression sack from the manufacturer, but getting a professional compression sack like , saves even more space. Compression bags are anyway required to store dirty clothes and clean clothes.
Many other small elements are accompanying me to the Kilimanjaro, such as a cap that protects me from the sun. Snow goggles to protect my eyes. Gloves and scarf should not be missed. A complete packing list can be found below.
A note at the end, since the packing list is given for the entire trip, you don't have to carry all the stuff all the time. Take a duffle bag with you like to stow unneeded equipment. The carriers will lift it up for you.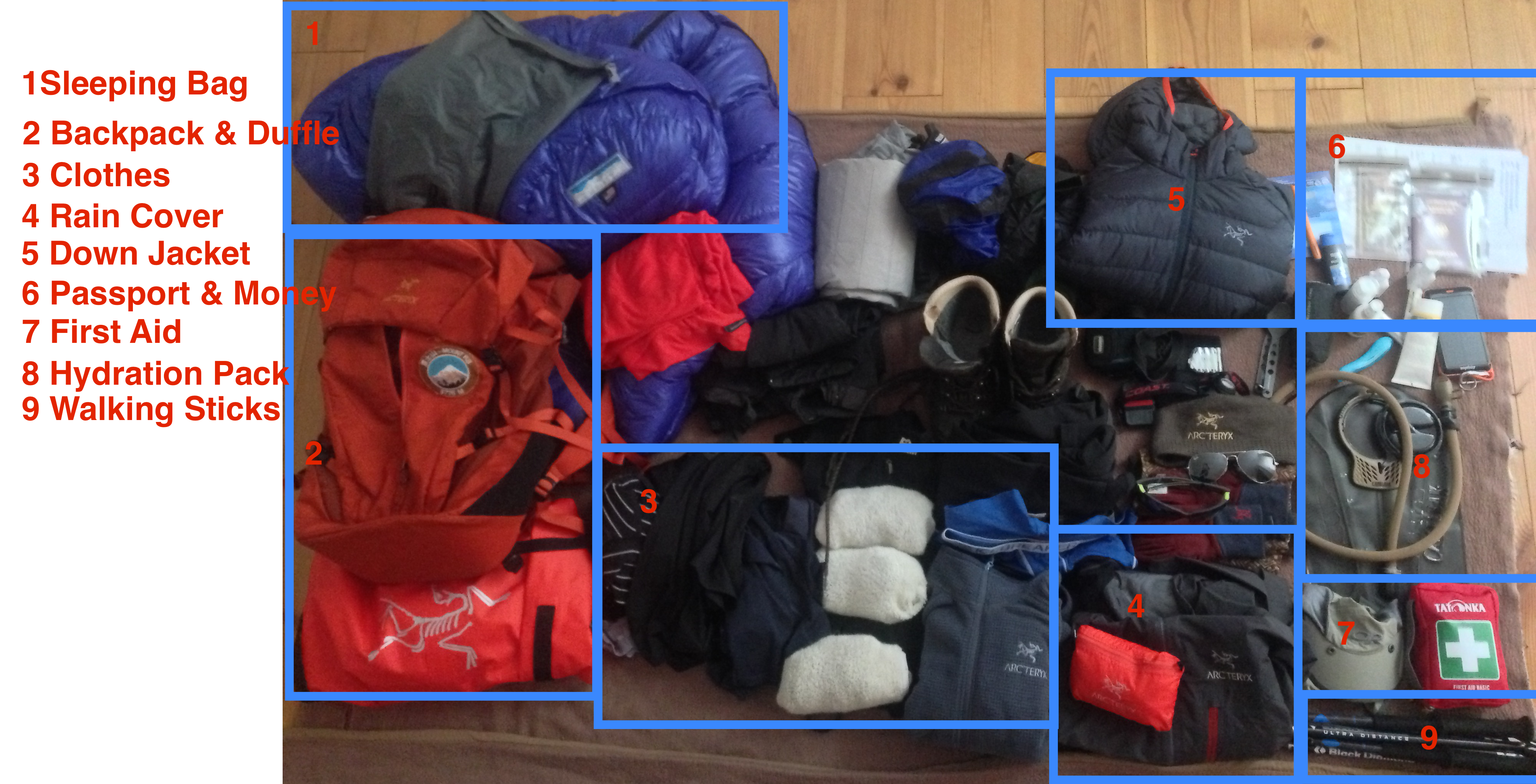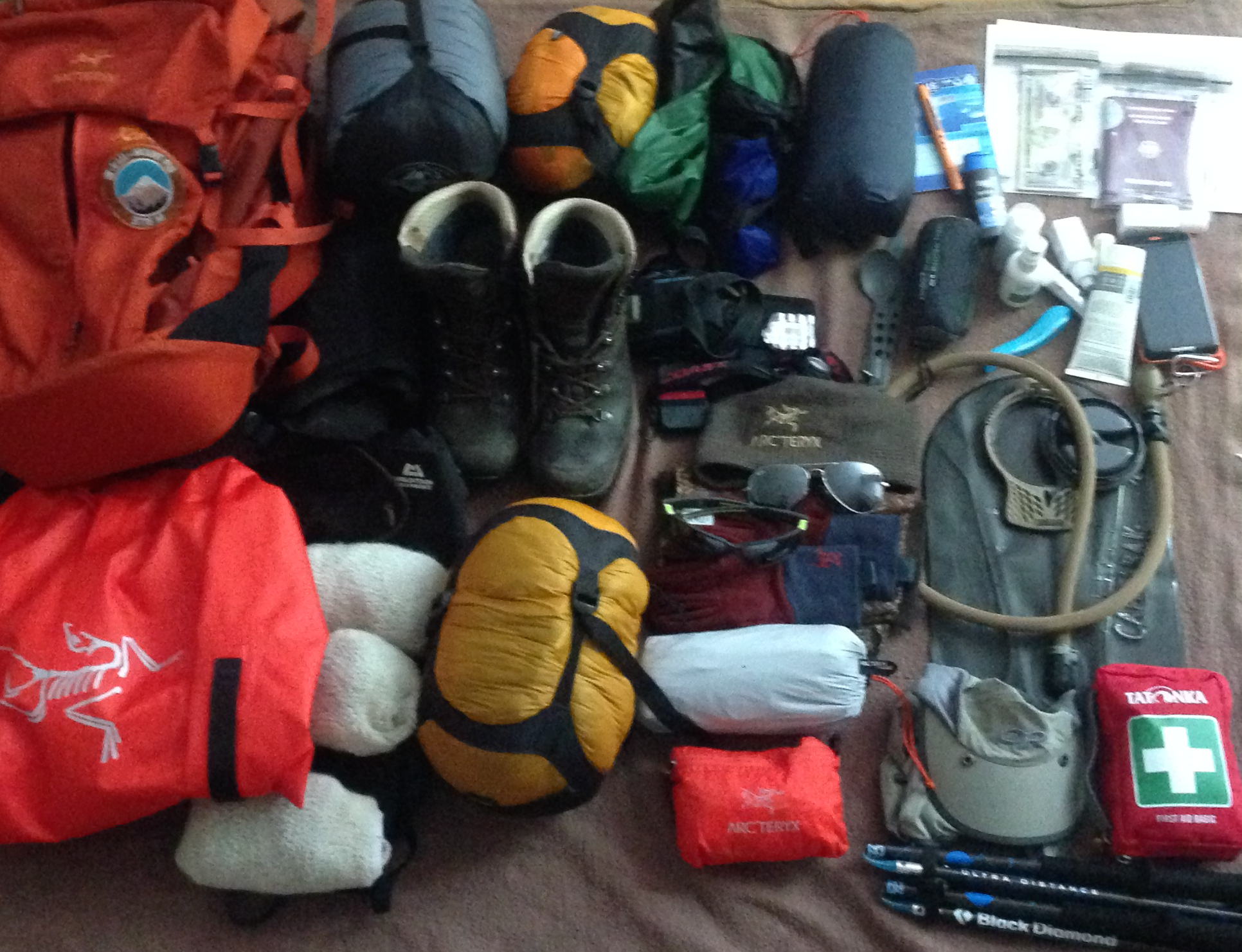 Kilimanjaro Preparations – Packing List
The detailed packing list can be found here.