After the last hiking tour through the Harz Mountains I definitely decided to get some adequate hiking boots. Rambling in German uplands is quite relaxed – trails are mostly well-maintained and secured – and even the beloved, well-worn sneakers are doing a great job to get around. Anyhow it's a good future investment since appropriate footwear is an essential part of an enjoyable hiking experience.
Apart from that the next longer tour is already scheduled for end of the summer. The plan is to go to Corsica, hike the GR20. I'm not a sissy, last year's travel to the Channel Islands I did wear sneakers. But GR20 means rough terrain, bedrocks and rugged cliffs. Briefly said not a good idea at all to go on a trek in Chucks.
Which boot to choose?
Well, this isn't easy to answer since it's highly depends on the functional range one is looking for and the individual fit respectively the constitution of the foot itself.
My requirements:
I'm searching for boots which are comfortable to go on day trips in uplands as well as capable to go trekking in rougher areas. They should be lightweight especially on longish tours where every added kilo counts. Even though they should support my feet, stabilize the ankles to protect against twisting plus shield from rocks and loose debris. Additionally it's important for me to get a feel for the surface I'm walking on much the same as a waterproof but breathable upper. Furthermore it should fit a slim foot with a low instep.
During some research through the internet I found a very helpful and interesting article from 'Outdoor Magazin'. Although the product review took place back in 2012 it still gives a good overview on available products.
I chose Mammut's Redburn Mid GTX Women. Constructed as an approach boot it's agile, durable and lightweight but yet substantial enough to support the ankles and absorb shocks. The upper is made from suede in combination with a Gore-Tex membrane and abrasion-resistant rubber caps in the front and heel part of the shoe. But even more: it looks pretty nice, so what more could one want?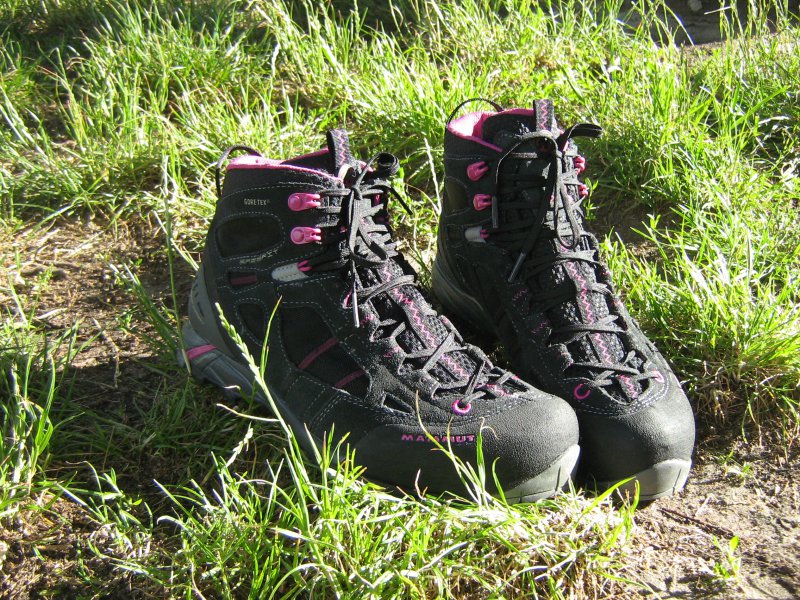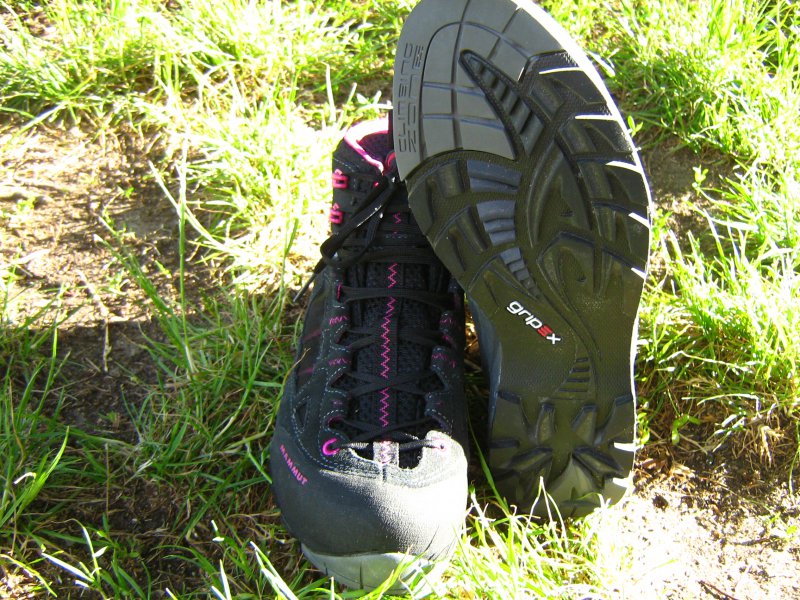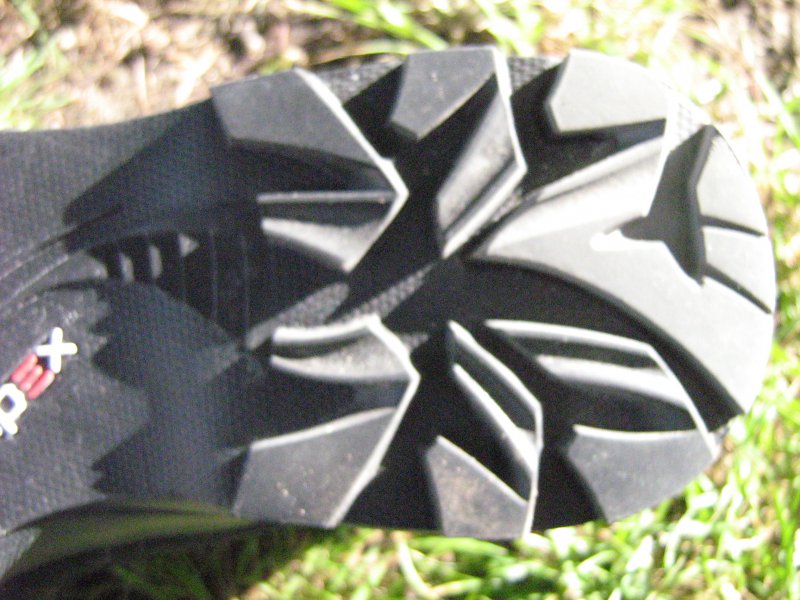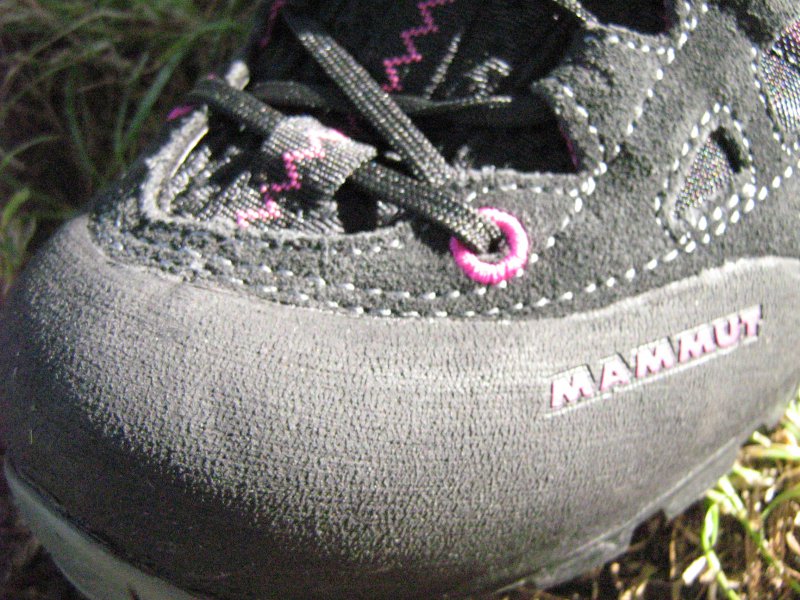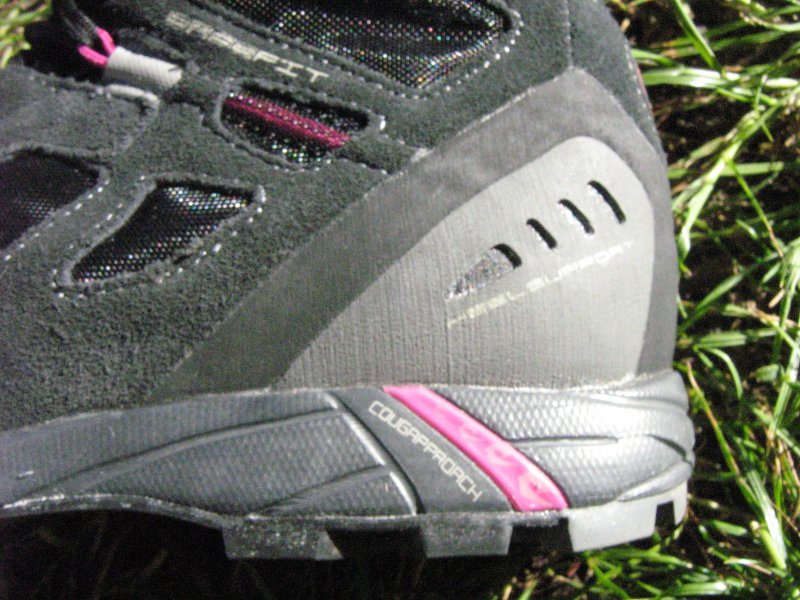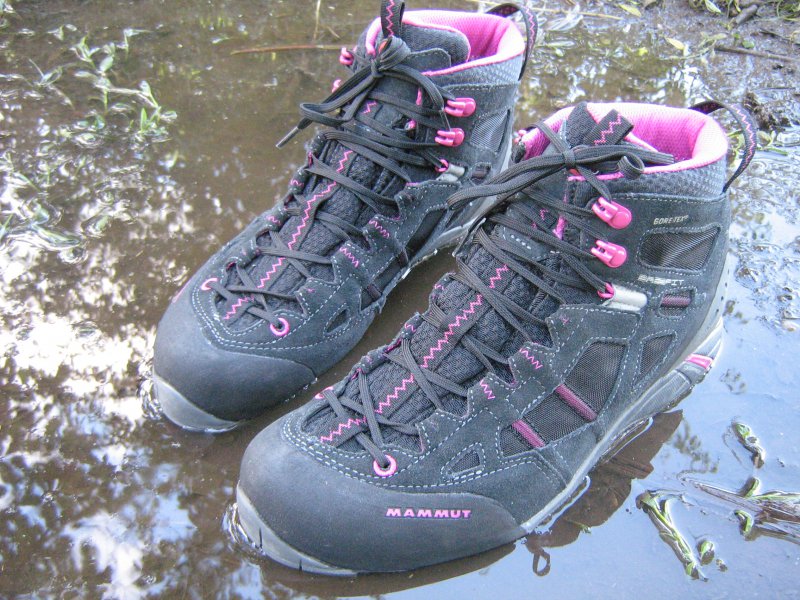 Mammut Redburn Mid GTX Review – First Fitting
Unlike usual shoe fitting experiences the Redburn was comfortable at the first moment. The boot has a good fixation on the foot, so it doesn't slip or pinches at a certain spot. It is possible to adjust it perfectly to your needs by the lacing. That means blisters shouldn't be a problem. Moreover the ergonomic cushion convinces with its dampening effect.
I wore the boots the whole day with thick hiking socks even though in combination with 25°C I didn't get sweaty feet. So the breathability of the used Gore-Tex membran seems to be proved just as the waterproofness which was tested in the shower.
Mammut Redburn Mid GTX Review – Field Trial
The first use under realistic conditions took place in the Elbe Sandstone Mountains. The weather during this weekend was quite changeable – perfect to test the new shoes in their natural environment.
The weather conditions made it possible to gain an impression of how the Mammut Redburn Mid GTX behaves on different substrates. The trail led along some rocky sections which wet by rain easily become slippery. The shoe provided a solid hold and the structure of the sole gave a good support to deal with the slippery wet surface. Only on some soggy, muddy paths I had a rather spongy feeling. But due to this underground it came as no real surprise.
Fit and comfort are most important to me and I am very satisfied. The cushion supports the foot excellent so that it avoids muscle fatigue during the tour. As already assumed in the first sample fitting I didn't get any blister during the whole weekend. The fit was perfect.
Even after all I found one drawback: The laces don't have enough grip, thereby loops dissolve quickly. Especially on long trips this can be quite distracting. Luckily tieing an extra knot can counteract this small flaw easily.
After the Redburn had fought magnificently in the German low mountain ranges it came to a test under more severe conditions, a trek on the GR20. Corsica is well-known for its rough mountain landscape, many gravel slopes and rock formations, so tougher conditions for hikers and footwear. And I'm still impressed by this shoe.
The Mammut Redburn gave me good hold when I needed it. Some sections of the GR20 are distinguished by large, slippery boulders which you have to pass walking and partly climbing, but no problem for the boots. The front part of the sole is designed to master steep climbs and vie ferrate. After all, it is an approach shoe. Even on gravel he makes a good impression and gave the ankles a solid support.
A Problem during longer tours are often blisters or skin irritations. Some companions, even early on, had bad bruised feet. Except for a little skin irritation on the heel there were no other problems for me. Certainly you should never underestimate the influence of good socks.
Even after a long day's stage, the weight of the boots wasn't annoying or disruptive. And even with my luggage (about 13kg) on the back comfortable to wear.
Towards the end of the tour I had, however, to bemoan the loss of one of the top eyelets. It uprooted, so that I could no longer tie the boots properly. This has been very annoying and has so far affected the wearing behavior, optimal support was no longer given.
Mammut Redburn Mid GTX Review – Summary
Despite the broken eyelet I'm thrilled by the Mammut Redburn Mid GTX. This model is particularly recommended for people with slim feet. Especially since it isn't easy to find something suitable in the field of hiking boots.
All in all a great shoe for day trips or multi-day tours, also in rugged, technically challenging terrain. But if you plan to carry higher loads (I had a max. of 14kg in my backpack), a more sturdy hiking boot is probably the better choice.